Shopping Basket
Your Basket is Empty
There was an error with PayPal
Click here to try again
Thank you for your business!
You should receive an order confirmation from Paypal shortly.
Exit Shopping Basket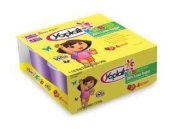 I had that wonderful task yesterday of shopping in the yogurt section.  Or should I say Wall O'Yogurt.  Anyway,  after reading many, many labels (mostly on the kids yogurts) here are my picks.
Hands down, the YoPlait kids has the least sugar with only 9 g of sugar (most have upwards of 14, 15+).  It has no crazy artificial flavors or colors.  I also like the fact that a child can sit down and enjoy this yogurt with a spoon, as opposed to sucking it out of a bag, like a Gogurt.  The small Dannonino cups are a good bet too, though they are small- they would make a nice addition to a meal or snack.   Both these choices have less sugar than even  the Stonyfield Farm lowfat yogurt cups for kids.  The Stonyfield Farm YoKids has 13 g sugar per cup.  
For adults and kids at home, I still stand behind the nonfat or lowfat plain Greek yogurt.  These yogurts have extra protein in them- they will keep you feeling full and satisfied longer.  Also, you get to add what you want.  Just add a teaspoon of honey- this will give you 5 g of added sugar- not too bad.  Also kids sometimes like to "make" their own yogurt.  Give them some plain Greek yogurt, some fresh fruit, a little honey or maple syrup and they get to mix it all together and eat it.  And of course there's smoothies which I have recently posted about.  The smaller container Greek yogurts with the mix-ins on the sides are great for adults on the go.  Just don't mix in the whole thing- save yourself from all that sugar- keep it to a teaspoon.
Let's teach our kids to eat what yogurt is meant to be, not what the food industry thinks yogurt should be (loads of sugar mixed with food coloring).
So enjoy your yogurts- hopefully these tips will get you away from the yogurt wall a bit faster.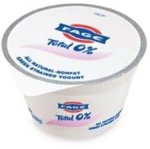 I have come to the conclusion that the food industry  has completely confused the definition of yogurt ( as has happened with brownies that now have fiber in them, you know what I mean).  Most yogurts are glorified candy yogurts.   Well, take a look at the amount of sugar in yogurt and you might be surprised.

 

Stonyfield Farm Lowfat Wild Berry Smoothies: 4 1/2 tsp sugar (23 g sugar)

Stonyfield Farm Fruit on the Bottom Strawberry Lowfat Yogurt:  4 tsp (23 g)

 

Gogurt Cool Cotton Candy/Burstin' Melon Berry: 2 tsp (10 g)  = but think of how SMALL these "candy yogurts" are

 

YoPlait Trix Verry Berry Watermelon/Berry Burst: 3 tsp. (14g)

YoPlait Kids Royal Strawberry Banana: 2 1/2 tsp (13 g)  ******better choice than some

YoPlait original Stawberry nonfat: 5 tsp!!! (26 g)

 

Dannon Fruit on the Bottom Lowfat Strawberry: 5 tsp (26 g)

Danonino Strawberry Yogurt: 1 1/2 tsp (7 g) (these are relatively small, but for the little ones, not such a bad choice)

Danonino Strawberry Drink: 3 tsp (14 g)

 

And I did not even get in to the amounts of artificial colors in some of the kids yogurts.....!!!!

 

 

So what is a poor yogurt shopper to do?

 

First of all, go Greek or Plain.  Add your own teaspoon of honey or maple syrup as a sweetener, along with some fresh fruit.  On the go? buy the Greek yogurt that have the honey or fruit on the side and only put a small amount in ( 1 tsp), add your own fresh fruit right before you eat it.

 

Also, buy Lowfat or Nonfat.  Stay away from articial sweeteners like aspartame, acesulfame potassium, etc.  since we do not yet know the long term effects of some of these sweeteners.   Better to use a little real sugar (as in honey or maple syrup) with some fresh fruit.

. 

And how do you read the sugar content on the labels?  Look at the amount of grams next to where it says "Sugar", then divide by 5.  There are 5 grams of sugar in 1 teaspoon.  Voila!  You can now be your own sugar sleuth out there!  Good Luck!  

 

 

0

/