Shopping Basket
Your Basket is Empty
There was an error with PayPal
Click here to try again
Thank you for your business!
You should receive an order confirmation from Paypal shortly.
Exit Shopping Basket
Grilled Greek Wraps
4 servings
Salad:
¾ cup crumbled feta cheese (or fresh mozzarella)
(4 oz of either)
15 cherry and/or yellow pear tomatoes, halved
10 kalamata or other good quality black olives, chopped
1 medium red onion, halved and thinly sliced
2 Tbsp. balsamic vinegar
1 Tbsp chopped fresh parsley or 2 tbsp chopped fresh oregano
1 medium clove garlic, minced
2 tsp olive oil
1 medium cucumber, peeled, halved lengthwise, seeded and diced
1 large eggplant, cut into ½ inch thick slices
2 tbsp. olive oil
¼  tsp salt
¼ tsp freshly ground pepper
4 (9-10 inch) flour tortillas
1.     Make salad: In medium bowl, combine cheese, tomatoes, olives, onions, vinegar, parsley, garlic and oil.  Mix well.  Let stand 20 minutes, stirring occasionally. Stir in cucumber, salt and pepper and let stand 10 minutes.
2.     Meanwhile, prepare a charcoal fire or preheat gas grill on high.  Brush both sides of eggplant slices with oil and grill, turning once, 15 to 20 minutes.  (Alternatively, bake eggplant at 400 degrees F until tender, about 25 minutes). Transfer to a plate, season with salt and pepper.
3.     Spray a large skillet with cooking spray, then warm each tortilla over medium heat just until soft and flexible, about 1 minute per side.  Arrange 2 or 3 eggplant slices down center of each tortilla, overlapping slightly.  With slotted spoon (to avoid getting too much liquid)spoon salad over eggplant, dividing equally.  Fold bottom end of tortilla partially over filling, then roll into a bundle and serve. 
Tips: I baked the eggplant (due to tropical storm- couldn't grill!) and it came out great.
Adapted from Vegetarian Times magazine
Here is a delicious vegetarian recipe using tofu that I adapted from Cooking Light that is fairly simple to prepare.  A bonus is that this recipe will give you some protein from the tofu.
Penne with Tofu-Basil Pesto
Serves 4 (serving size- 1 ¼ cups)
1 cup fresh basil leaves
1 cup silken tofu
¼ cup grated fresh Parmesan
2 tbsp. fresh olive oil
2 tbsp. fresh lemon juice
½ tsp. black pepper
¼ tsp. salt
1 large garlic clove, minced
1 tsp olive oil
2 ½ cups sliced cremini mushrooms
¼ cup minced shallots
4 cups hot cooked penne (about 8 oz. uncooked)
1.Combine first 8 ingredients in a food processor or blender, and process until smooth.  Place pesto in a small nonstick skillet; cook over low heat until warm.  Remove from heat, keep warm.
2.  Heat 1 tsp. olive oil in a large nonstick skillet over medium high heat.  Add the mushrooms and shallots, and sauté 4 minutes.
2.  Combine penne, pesto, and mushroom mixture in a large bowl, toss gently. 
Enjoy!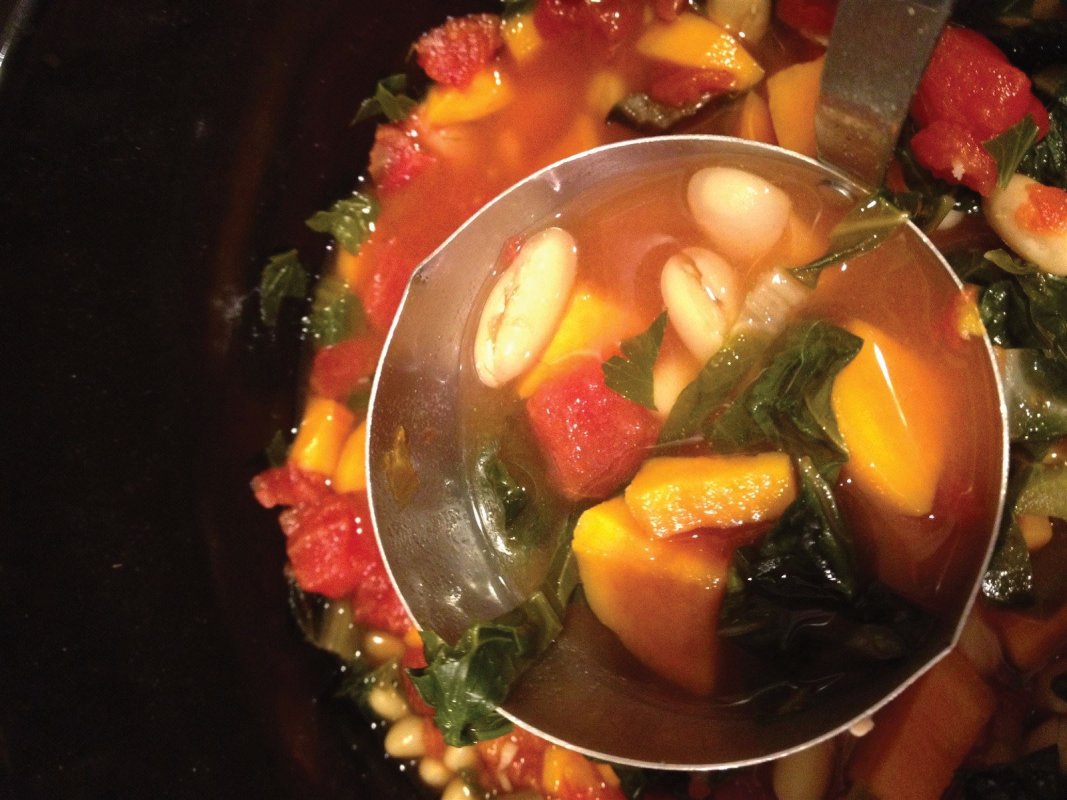 Hi everyone!  Here is a great recipe I adapted for a vegetarian/vegan soup I made last night from the cookbook "The Vegan Slow Cooker" by Kathy Hester 2011.
Sweet Potato White Bean Soup  (soy free, gluten free)
Servings:  6
Prep time:  15 minutes
cook time- 6-8 hours in slow cooker
INGREDIENTS:
1 medium-size sweet potato, chopped
2 cloves garlic, minced
2 stalks celery, chopped
1 can (14.5 oz.) diced tomatoes
1 can (14.5 oz.) white beans, drained and rinsed (I recommend Cannellini beans) 
5 cups water
2 tablespoons vegan chicken-flavored bouillon (can use regular chicken bouillon if you wish)
2 cups chopped Swiss chard
1 tablespoon minced fresh thyme
2 sprigs parsley, minced
salt and pepper, to taste
Combine the sweet potato, garlic, celery, diced tomatoes, beans, water and bouillon in the slow cooker.  Cook on low for about 6 to 8 hours. 
About 20 minutes before serving, add the Swiss chard, thyme and parsley.  Cook until the Swiss chard is tender.  Add salt and pepper to taste.  
Enjoy!
Hi everyone!  So I made this last night and was unsure as to how it would come out and it came out great!  
This is a vegan lasagna, but tasted so creamy due to the tofu béchamel sauce, and sautéed mushrooms. 
 I adapted this  from "The Vegan Slow Cooker" by Kathy Hester 2011. 
 Yield:  4 servings Prep time: 20 minutes 
 Cook time- 1 ½ to 2 ½ hours   
  Mushroom Lasagna with Garlic –Tofu Sauce   
 For the Bechamel Sauce: 1 package (15 oz. or 420g) silken or soft tofu 
Juice of ½ lemon 
3 cloves garlic or 1 tsp. dried
½ to 1 tsp. salt (to taste)
1 ½ tablespoons vegan chicken-flavored bouillon
¼ cup nutritional yeast 
 INGREDIENTS:
2 tablespoons olive oil
20 oz. (560 g) mushrooms, sliced
2 sprigs rosemary
½ to ¾ package (10 oz. or 280g) whole wheat lasagna noodles (regular kind, not no boil noodles)  
 You can do this part the night before, or earlier in the day: To make the béchamel sauce:  Puree all the sauce ingredients in a food processor or blender until smooth.   Heat the oil in a skillet over medium heat and sauté the mushrooms with the rosemary until they give off their water and begin to brown, about 10 minutes.  Remove and discard the rosemary sprigs.  Store the sauce and mushrooms in separate airtight containers in the fridge.   
 2- 2 ½ hours before you will have dinner:  
oil the crock of the slow cooker and spread one-fifth of the sauce on the bottom, then top with a layer of lasagna noodles.  Break off the corners on one side of each noodle so they fit snugly in the slow cooker.  You can add the corners in as well.  Place a layer of noodles over the sauce.  Add a layer of one-third of the mushrooms and top with another one-fifth of the sauce.  Repeat the layers two more times, ending with a last layer of lasagna noodles, and then top that with the remaining sauce.    Cook on high for 1 ½ to 2 ½ hours, until a fork will easily go through the middle and the pasta is al dente.    
 Enjoy!  
Hi everyone!  Here is a delicious dish I made last week!
Cashew Nut Curry (from Vegetarian Pleasures by Jeanne Lemlin, copyright 1986)
Serves 4
2 tablespoons oil
1 medium size onion, diced
1/2 red chili, seeded and minced, or 1/8 tsp. cayenne pepper
1 tsp. turmeric
1 tsp. ground coriander
1/4 tsp. ground cardamom
2 cloves garlic, minced
1/2 tsp. minced gingerroot
1 cinnamon stick ( I sprinkled cinnamon powder in instead, fyi)
1/2 tsp. salt
8 oz. raw cashews
2 medium size potatoes, peeled and diced (1/2 inch dice)
2 cups coconut milk
1.  Heat the oil in a medium-size saucepan over medium heat and add the onion, chili, turmeric, coriander, cardamom, garlic, gingerroot and cinnamon.  Cook for 2 minutes, stirring constantly.
2.  Add all of the remaining ingredients and bring to a boil.  Lower the heat and simmer, partially covered, for 20 minutes, or until the potatoes are tender and the sauce is thickened.  Serve alone or over rice. 
Enjoy!
/