Shopping Basket
Your Basket is Empty
There was an error with PayPal
Click here to try again
Thank you for your business!
You should receive an order confirmation from Paypal shortly.
Exit Shopping Basket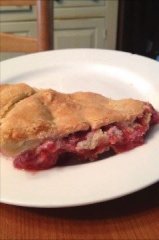 So who needs all the hydrogenated oils from the store bought pie crusts?  Not me!  I found a great recipe you can make from scratch.   Your kids can help roll out the dough when it is ready!
Also,  I know that there is a lot of butter in this but I believe dessert should be dessert and taste wonderful.  Use this recipe when making a berry pie with so many of the fresh berries that are currently in season.
I will walk you through this so you get an awesome pie crust!
I adapted this from allrecipes.com
Basic Flaky Pie Crust
Ingredients:  
1 1/4 cups all-purpose flour
1/4 tsp. salt
1/2 cup butter, chilled
3 tbsp. ice water
Note:  if you are making a recipe that calls for a double crust, don't forget to double this recipe and roll out 2 balls of dough.
Tip:  (from The New Basics Cookbook by Julee Rosso and Sheila Lukins):  If you have a marble cutting board  use that because it will help the dough retain its coolness, keeps it from sticking as much
Directions:
1. Whisk the flour and salt together in a medium size bowl.  Slice the butter into approx. 1 tbsp. pieces in the bowl. With a pastry blender, cut in the cold butter until the mixture resembles course crumbs.  Drizzle 2 to 3 tablespoons ice water over flour.  Toss mixture with a fork to moisten, adding more water a few drops at a time until the dough comes together. 
2.  Gently gather dough particles together into a ball.  Wrap in plastic wrap, and chill for at least 30 minutes before rolling. 
3.  Flour your cutting board and rolling pin.  Spray your pie plate with cooking spray. Roll out dough, and put in a pie plate.  Fill with desired filling and bake according to your recipe.  
Enjoy!
/